Welcome to our first annual MedStar Health 3v3 Tournament and food truck festival! Through the combined efforts of Bascome Enterprise, MedStar Health, Joppatowne Rec and our other partners - we are excited to bring this event to the local community in an effort to continue building the soccer culture in a positive and fun way!
General Information
Location - Magnolia Elementary School
Dates - July 22 & 23
Age Groups

Saturday - Adult Coed & High School
Sunday - U10-U14

Food Truck Festival

No entry cost
Saturday
9am to 4pm
Tournament Structure Overview

Each team is guaranteed 4 games

3 Group Stage Games
1 Consolation Game
3rd Place Game
Final

Game Duration

Two halves of 12 minutes
2 minute half time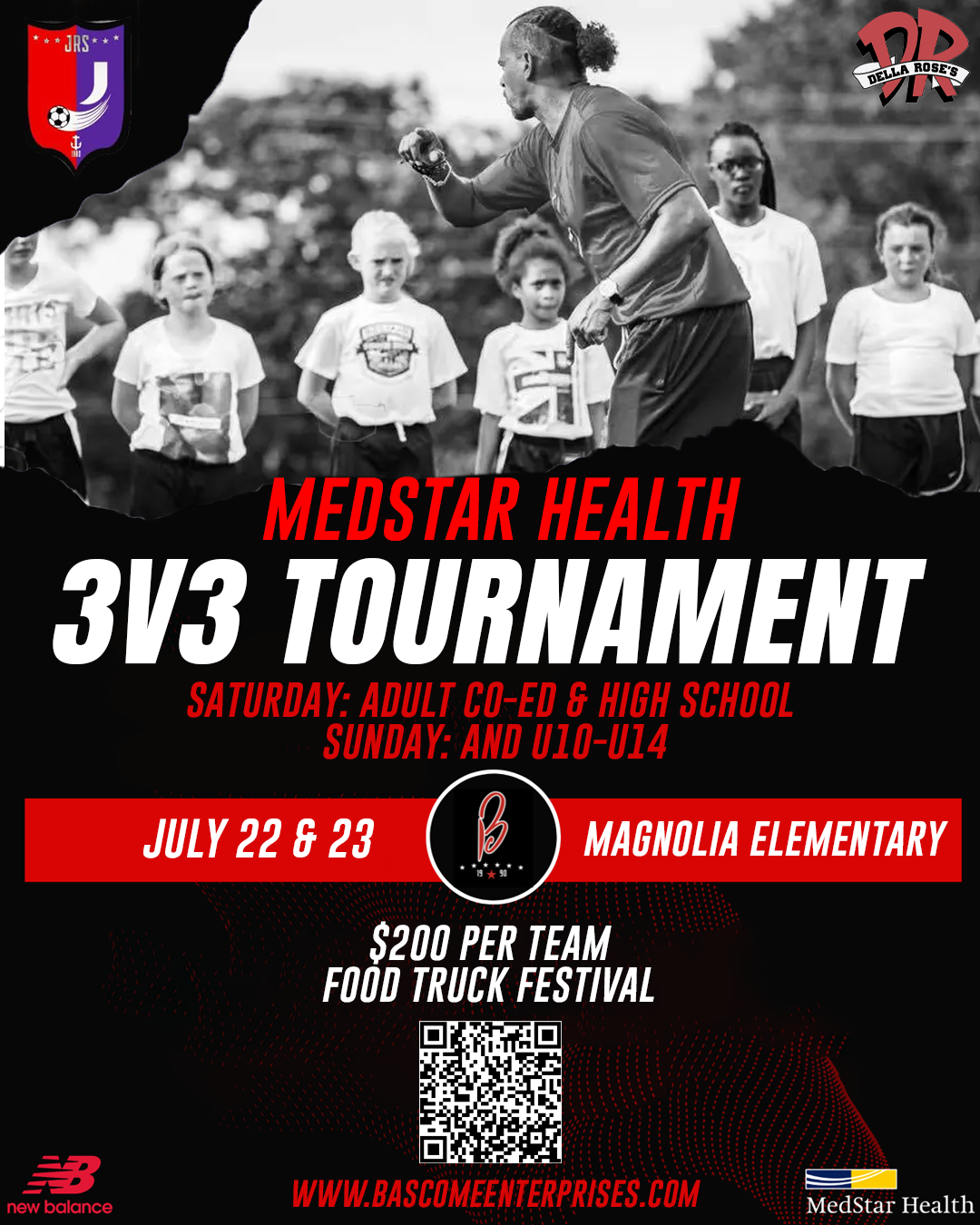 **For team registration, you may register an entire team, including payment and player rosters. However, each player on a roster must also individually submit a player registration, so be sure to direct players on your roster to our "Player Registration" link.
Structure for 1 bracket in an age group
3 Group Stage Games
3rd Place Game
Final
Structure for 2 brackets in an age group
3 Group Stage Games
1 Consolation Game

3rd place Bracket A vs 3rd place Bracket B
4th place Bracket A vs 4th place Bracket B

3rd Place Game

2nd place Bracket A vs 2nd place Bracket B

Final

1st place Bracket A vs 1st place Bracket B
GOAL BOX: The goal box, ten feet wide by eight feet deep, is directly in front of the goal. No player may touch the ball within the goal box, however any player may move through the goal box. Any part of the ball or player's body on the line is considered in the goal box; the player is an extension of the box. An INFRACTION occurs if a defender touches the ball in the goal box, a penalty kick is awarded to the offensive team. If an offensive player touches the ball within the goal box, a goal kick is awarded to the defensive team. If the ball comes to a complete stop in the goal box, regardless of which team touched it last, a goal kick is awarded to the defensive team.
GOAL SCORING: A goal may be scored from a touch on the offensive half of the playing field.
SCORING IN GROUP STAGE: 3 points for a win; 1 point for a tie and 0 points for a loss.
TIEBREAKERS: In pool play, ties between two or more teams will be broken by; 1) head to head results between tied teams (2 teams only); 2) goal difference in pool play; 3) fewest goals against in pool play; 4) goals scored. If teams are still tied after all tiebreakers the system will automatically break the tie by system generated coin flip.
OVERTIME: TEAMS WILL HAVE A 3 MINUTE "GOLDEN GOAL" OVERTIME PERIOD. If the score is still tied, the winner is  decided by shootout with the 3 players on the field at end of golden goal period.  Kicks in the shootout should be taken from the kick-off spot at the half line.
ADULT COED: At least 1 female player must be on the field at all times.
KICK-INS: The ball shall be kicked in to play from the sideline instead of thrown in.
GOAL KICKS: May be taken from any point on the end line, and not in the goal box area.
INDIRECT KICKS: All dead ball kicks (kick-ins, free kicks, kick-offs) are indirect except corner and penalty kicks.
FIVE YARD RULE: In all dead ball situations, defending players must stand five yards away from the ball.
NO OFFSIDES OR SLIDE TACKLING
PLAYER/BENCH PERSONNEL  EJECTION (YELLOW/RED CARD): Referees have the right to dismiss a player OR bench personnel from the game for continual disobedience or as a result of an incident that warrants sending off. RED CARD suspension = Rest of game PLUS next game. Tournament Director may dismiss player or bench personnel for rest of tournament. (Teams still play with 3 on the field)
SPORTSMANSHIP: Players, coaches and spectators are expected to act in the nature of good sportsmanship at all times. Abuse of the referees will not be tolerated. Any instance of such conduct will disqualify the responsible team from the event.